Rehabilitation is a journey full of challenges. There are those who need physical therapy after a hip replacement while others may need to learn how to walk again after an injury.
The goal of our physical therapy rehabilitation is to help you get back to doing the things you love. We want all our residents to return to their optimum level of activity, whether they've experienced an accident, injury or surgery. We also offer hip physical therapy as part of our short term rehabilitation center.
But many places in our region offer these services. What makes us different?
It's the way we treat you and those you love.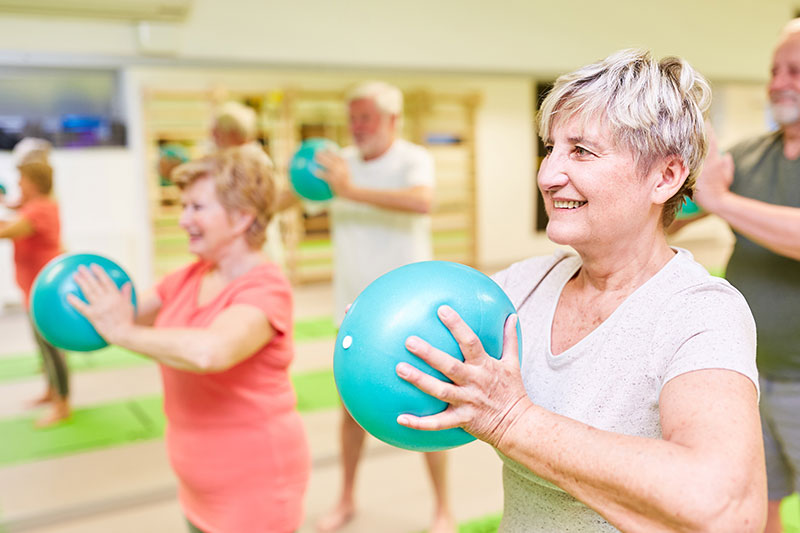 It may be old-fashioned, but we still believe in the Golden Rule. We treat your mother the way we'd treat our own mothers. We give you the encouragement and assistance that we'd like to receive ourselves. It's a simple philosophy, but it's one that is at the very essence of who we are and how we relate to our residents at our physical therapy rehab center.
Our therapeutic gym contains all the equipment needed to help you regain functionality one step at a time. We're right beside you, fighting for you, helping you and in your corner rooting for you. We accomplish this by hiring only the most qualified employees.
For them, it's more than just a job. Many have been with us for decades. We work together on a mission to help you along your journey to experience life and the things you love again.
With specialized and licensed therapists, we tailor an individual plan for you. Our focus is on providing the highest level of compassionate care in a secure, peaceful and vibrant community.
Our rehabilitation services focus on physical therapy, occupational therapy and speech therapy.
Physical Therapy
Physical therapy involves working with residents to gain control of their body's movement, such as learning how to walk, regaining balance and learning how to use a walker or similar aid. Physical therapy is usually necessary after a joint replacement or an injury.
Occupational Therapy
Occupational therapy focuses on helping residents regain the ability to perform tasks of daily living. This involves learning how to get dressed, brush teeth and go to the bathroom. Often, our occupational therapists have assistive devices available to help our residents.
Speech Therapy
Speech therapists are about much more than helping residents communicate–they help residents who have difficulty swallowing and who are struggling with memory loss. Speech therapists often work closely with those who have had a stroke or similar injury.
When you make progress, it's a victory for all of us. Sometimes there are setbacks, but we're with you to help you stand tall and face the challenges.